Sicilia and Malta – Directed by Raymond Capra, Brooklyn College CUNY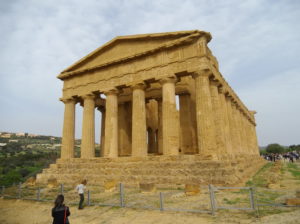 Vergilian Society Summer Tour – June 24, 2019 to July 7, 2019
Sicilia and Malta have seen much history since human beings first arrived on the islands circa 8000 BC. Their cultures flourished before the arrival of Phoenician and Greek traders. The islands have long long been the crossroads of the Mediterranean Sea. The ancient Greek ruins are among the most impressive in the world; in addition to be seen are the remains of the Roman era and the spectacular Medieval and Baroque churches and palazzi. The tour makes a circuit of the entire island with visits to many sites and museums along the way with stays in Catania, Syracuse, Agrigento, and Palermo. Other possible visits include Taormina, Selinunte, Morgantina and the Roman villa near Piazza Armerina. In the middle of the Sicilian journey is an excursion by boat under the stars to Malta. There the tour will visit the Megalithic temples of Ħaġar Qim and Mnajdra, the national archaeological museum, the fortress city of Valletta with its Baroque churches built by the Knights Hospitallers who served Christendom from the great port. The tour includes two nights in Catania, two in Syracuse, three in Valletta (Malta), two in Agrigento, one in in the port town of Castellammare del Golfo, and three in Palermo. These two islands are the epicenter of the Mediterranean with impressive cultural remains with megalithic temples from the fourth century BCE, the cities and temples of the Greeks, Phoenicians, and Romans, and medieval cathedrals.
Cost $2975.* (Single supplement $450).
*Price includes hotels, all breakfasts and lunches, coach travel throughout Sicily and Malta, ferry ticket between the two islands, and a few dinners.
NB –Monuments listed are subject to change based on closings for restoration and other factors outside our control. Every attempt will be made to see that we visit as many of the sites listed as possible. As well, other sites may be added depending on time and availability.
Monday, June 24
Afternoon arrival at hotel in Catania
Visit in Catania city
Bath complex underneath the cathedral/diocesan museum
Hotel in Catania
Tuesday, June 25
Taormina
Visit to Theatre and city
Hotel in Catania
Wednesday, June 26
Lentinoi and Megara Hyblaia
Visit Lentini museum and archeological park
Visit ruins of Megara Hyblaia
Hotel in Syracuse
Thursday, June 27
Syracuse
Museo archeologico regionale Paolo Orsi and archaeological park
Hotel in Siracusa
Friday, June 28
Siracusa
Villa Romana del Tellaro di Noto
Visit Duomo and churches
In the port of Pozzallo for late evening Ferry to Valletta, Malta
Hotel in Valletta, Malta
Saturday, June 29
Valletta, Malta
National Museum of Archaeology
Baroque churches
Forts of the Knight
Hotel in Valletta, Malta
Sunday, June 30
Malta
Megalithic temples
Hotel in Valletta, Malta
Monday, July 1
Leave Malta and return to Sicily (by ferry)
Vist Morgantina
Museo Archeologico d'Aidone
Villa Romana del Casale
Hotel in Agrigento
Tuesday, July 2
Agrigento
Museo Archeologico
Greek Temples
Hotel in Agrigento
Wednesday, July 3
Selinunte
Visit archeological park of Selinunte 10:00-13:00
Segesta
Hotel in Castellammare del Golfo
Thursday, July 4
Palermo environs
Soluntum
Temple of Victory (Himera)
Hotel in Palermo
Friday, July 5
Palermo
Museo Archeologico Regionale Antonio Salinas
Visit Palermo Cathedral and the Capella Palantina
Hotel in Palermo
Saturday, July 6
Palermo
City visit Palermo
Farewell Dinner
Hotel in Palermo
Sunday, July 7
Departure from Palermo airport

Electronic Payment Options
A surcharge will be assessed for electronic payment.
Deposit: $750 + $23 surcharge
Total Payment: $2,975 + $90 surcharge
Final Payment: $2,225 + $67 surcharge
Single Supplement: $450 + $15 surcharge