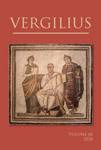 Reviews for Vergilius should be 1200-1500 words and follow Vergilius style guidelines for_regular article submissions.
Please include all information about the publication at the top of the initial page, including ISBN and cost of the volume.
Reviews should conclude with name of review author, affiliation, and email address.
Contact the editor of Vergilius with any questions.
Hunter H. Gardner
Professor of Classics and Comparative Literature
University of South Carolina
Columbia SC 29208